Accommodation
The accommodation - 300 sq metres - occupies the top floor of this superb edifice. Your hosts, the owners Alberto and Antonella and their sweet and gentle dog, Gita, live discreetly and unobtrusively on the lower floors. However the villa has its own separate and autonomous entrance at ground level and is laid out in such a way as to ensure complete privacy.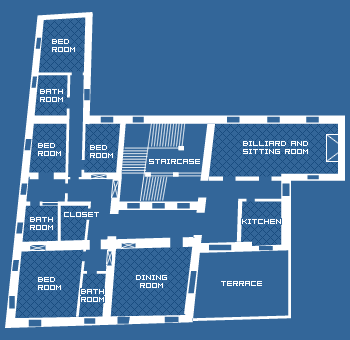 Through majestic double doors you enter the main hall in the corner of which is a beautifully restored private chapel that can still be used for religious functions. A wide sweeping staircase leads you to your accommodation.

The four bedrooms (two are in twins) sleep 8 people. They are spacious and airy with breathtaking views from every window and are elegantly and tastefully furnished. There are three large luxurious bathrooms/showers.

The elegant main dining room is beautifully furnished and has seating for 12 or more people with double doors opening onto a large terrace, measuring 50 sq. metres, which overlooks a superb panorama of the Arno valley and the hills beyond.

There is a billiard room and large comfortable sitting room with open fireplace. Wood is supplied freely for this in winter. Satellite TV, a video and Cd/Tape/stereo player are available for guests' entertainment.
Upon request, Internet access is available.

The fully equipped kitchen/dining area has hob, oven, dishwasher, washing machine, fridge and a large fridge/freezer/ice maker.

The huge outdoor panoramic terrace is furnished with table, chairs and parasol. It is an ideal place to dine, relax, read or watch the sun set over the hill top villages nestling among the cypresses, olive groves and vines that are the backdrop to this stunning landscape.

Guests have use of a large swimming pool (10 X 20 metres) furnished with sun loungers, tables, umbrellas, and shower. Guests may also avail of the pool changing room equipped with shower/toilet and fridge.

For parties of more than 8 to max. 12 people please contact us and we will be able to get you an extra apartment to suit your requirement.